Epson printers and all-in-ones deliver amazing quality, blazing-fast speeds, exceptional reliability and performance to meet your business needs.
Explore our most popular models below or contact our equipment specialists to discuss your requirements.
Epson printers and all-in-ones
Our advanced printing and ink technologies deliver the highest quality results for your business.
Print documents and photos wirelessly from across the room or around the world using your iPad®, iPhone®, tablet, smartphone or computer. Our solutions make it easier to print the way you want.
Get an unbeatable combination of convenience and value with Epson's EcoTank line of Supertank all-in-one printers, featuring revolutionary ink replacement technology that offers super-high-capacity, refillable ink tanks and ultra-low-cost, cartridge-free replacement inks.
Contact Us Today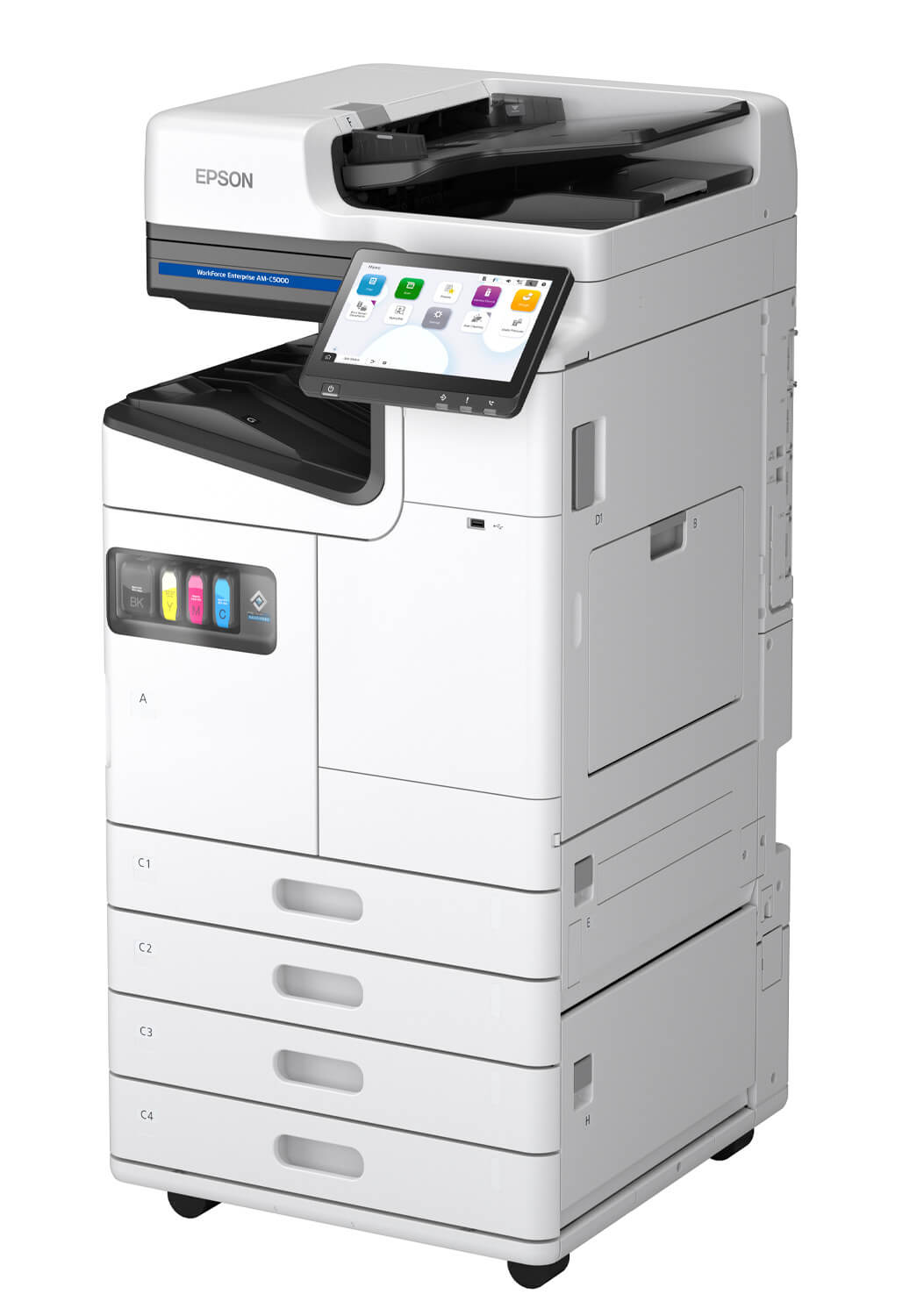 | Model | Speed | Max Width | Colors | Type | Brochure (pdf) |
| --- | --- | --- | --- | --- | --- |
| Epson WorkForce Pro WF-C529R | 24ppm | 8.5 x 14 | Color | Printer | Learn More |
| Epson WorkForce Pro WF-C579R | 24ppm | 8.5 x 14 | Color | MFP | Learn More |
| Epson WorkForce 879R | 26ppm | 13 x 19 | Color | MFP | Learn More |
| Epson WorkForce 20750 | 75ppm | 13 x 19 | Color | MFP | Learn More |
| Epson AM-C4000 | 40ppm | 13 x 19 | Color | MFP | Learn More |
| Epson AM-C5000 | 50ppm | 13 x 19 | Color | MFP | Learn More |
| Epson AM-C6000 | 60ppm | 13 x 19 | Color | MFP | Learn More |
| Epson WorkForce WF-C20600 | 60ppm | 13 x 19 | Color | MFP | Learn More |
| Epson Workforce WF-C21000 | 100ppm | 13 x 19 | Color | MFP | Learn More |
| Epson Workforce WF-M21000 | 100ppm | 13 x 19 | Monochrome | MFP | Learn More |